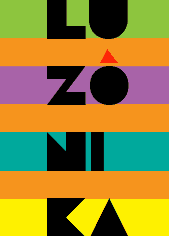 Great machas in a great city. This is the best definition of Luzónica, a group of young queer women based in Oaxaca City, who seek to sensitize Oaxacan society about sexual diversity through arts and cultural expressions.
Carina, Yiyi, Cois, Lety, Sofi—all of them between 19 and 30 years old—decided to create this group to satisfy their own need for something different in the Oaxacan queer scene. During informal conversations with some of them, they told us that even though you can find gay parties and gay venues in Oaxaca, there is a lack of spaces where artsy Oaxacan queers can show their work. Moreover, there is a lack of space where those who are not so fond of partying can meet other lesbians.
Luzónica members are part of the art and journalism scene in Oaxaca, a big advantage that has allowed them to link this young organization to others and also, to involve different venues across the city that are not considered queer.
In the interest of full disclosure, I have to say that I witnessed and was part of the first event that Luzónica organized. I was impressed by their ability to involve cultural locales, restaurants and even the local government in a queer event that would probably have been rejected in other parts of the country, due to conservative attitudes towards sexual diversity.
I would not like to jinx Luzonica's future, but considering that one of the purposes of this organization is to sweep away discrimination and rejection against queers, Luzónica is doing it right by showing that LGBT organizations are creative and have a lot to offer to the rest of society.
Oaxaca City is a great place with a bunch of restaurants, cafes, galleries, clubs and museums. So, if you happen to be an artsy macha and are interested in travelling to Oaxaca, do not hesitate in working with Luzónica or at least, take a look to their myspace and check out what's on their agenda.